GLOBAL RESILIENCE INDEX INITIATIVE
"It is only in creating a market-wide, evidence based, comparable and standardised approach on physical climate risk that the financial sector will be able to price climate risk, thus building finance sector resilience and helping us to identify where and how our economy and society need to adapt to a changing climate."
Joint statement by the Global Commission on Adaptation, TCFD, UNEPFI and the Global Centre on Adaption (January 2021).
The Climate Emergency is already here. Natural catastrophes cost nearly $200bn globally in 2020. Since 1970, over 2 million people have died in climate-related disasters; 9 out of every 10 in developing countries. In August 2021, the Intergovernmental Panel on Climate Change painted the clearest picture yet of the risks we face and underlined the urgency of investing in adaptation and resilience.
To resolve the climate emergency – we must also tackle a data emergency.
If we are to advance adaptation and align financial flows with climate resilient development – we need a shared understanding of the risks across society.
The Global Resilience Index Initiative (GRII) is a global public good with a clear and focussed goal. 
Through a programme launched at CoP26 Glasgow, the GRII will provide reference data on climate and natural hazard risks to inform and protect populations and economies, particularly in emerging and developing countries, form a basis for mobilising the trillions of investment needed to meet the Paris goals on climate-resilient development. This information will be open, accessible to all using shared standards and consistent metrics at local to global scales. 
Until now this essential information remains unavailable, inaccessible and inconsistent even in developed countries.
By closing this data gap GRII aims to help protect millions of lives and livelihoods; mobilise trillions of investment in adaptation and support the growth of resilient societies around the world.
Policy makers, financial markets and exposed communities will understand their climate risks to make, communicate and implement better decisions for a resilient transition.
Teams across public, private and academic sectors are combining expertise and resources to implement ongoing operational services by CoP27 in Egypt. 
Please join our shared mission: to win the Race to Resilience.
"It is imperative that it is clear which financial flows and investments are Paris aligned. Without this, we will not achieve the net zero transition needed for 1.5 degrees. Discipline and transparency over alignment will also play a critical role for climate resilient development. GRII can play an important role by creating a shared understanding of mounting physical climate risks. In turn, this will help close the insurance protection gap and direct investment and aid to where they are needed the most." 
Mark Carney, UN Special Envoy on Climate Action and Finance
"With the wealth of global insurance risk modelling expertise to bring to the table, this multi-partner program will benefit policy makers, financial markets and exposed communities across the world in understanding their climate risks. This, in turn, will help decision-makers reach, communicate and implement better actions for a more resilient future for all."
Eric Andersen, President,  Aon, Member and Risk Modelling Champion IDF Steering Committee
The Global Resilience Index Initiative (GRII) was formed in late 2020 at the request of Mark Carney, UN Special Envoy on Climate Action and Finance to the Insurance Development Forum (IDF) to step forward and help enable open access reference information for climate risk measurement and disclosure and to support the growth of resilient economies and societies.
GRII preparation was led by a task force of six organisations convened by the IDF under the Special Envoy's mandate:  the Coalition for Climate Resilient Investment; Coalition for Disaster Resilient Infrastructure; GEM Foundation; UK Centre for Greening Finance and Investment and the United Nations Office for Disaster Risk Reduction.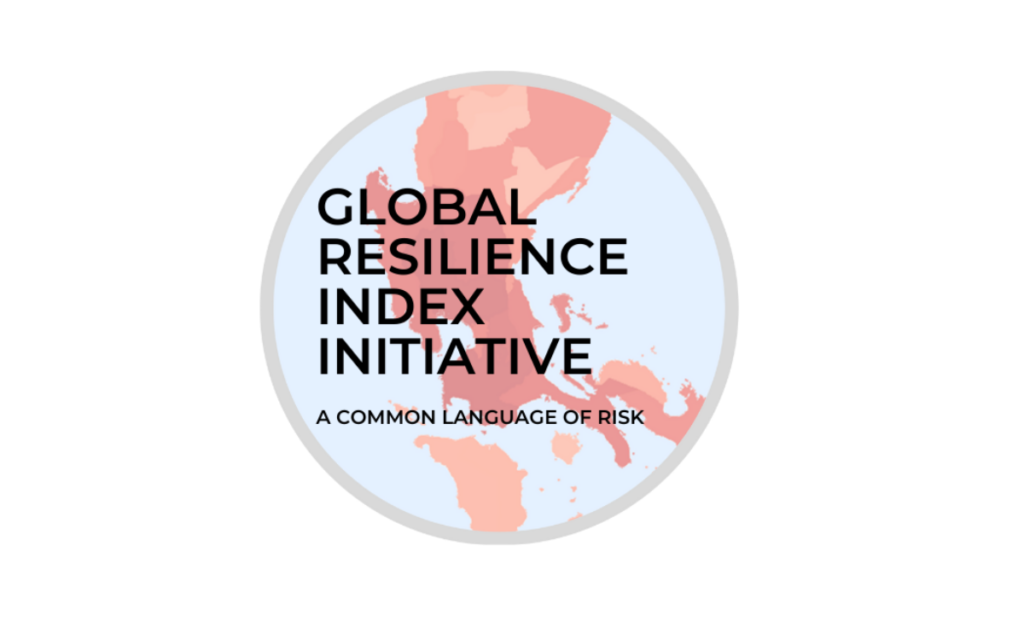 The GRII now embraces a growing coalition of supporting organisations.  
Based upon common standards, the GRII will support and link worldwide groups working on climate resilience including the humanitarian sector, infrastructure investment, disaster risk insurance, financial regulation and disclosure.
During 2022 technical and institutional preparations will continue. By CoP27 it is intended that operational services will commence and the longer- term institutional setting for the GRII will be established.
CONTRIBUTING ORGANISATIONS